The Cessna® Citation® Mustang® is an excellent way for passengers to dip their toes into the world of charter flights. The four-passenger light jet has thousands of destinations in North America. Fly in comfort and style with Global Air Charters on the Mustang.
Save Valuable Time & Money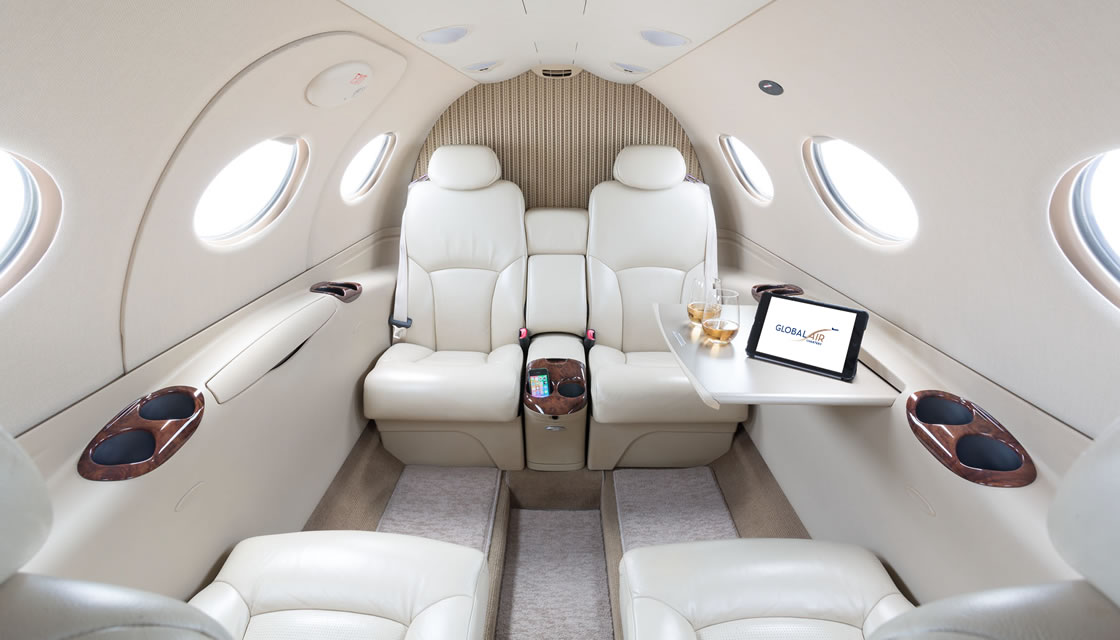 Whether you are new to flying with a private charter or a seasoned pro in need of a shorter flight, the Mustang is an excellent choice. As one of the smaller options on Global Air Charter's fleet, the Mustang provides the luxurious journey you'd expect on any private flight.  Additionally, it capitalizes on efficiency, which results in saving you money.
The advanced avionic technology implemented into the design aids in the aircraft's ability to safely get you to your destination while saving time. Its aerodynamic design gives this jet the ability to fly high above questionable weather. Furthermore, the Mustang has a range of 1,000 Nautical Miles, which equates to a significant number of non-stop destinations within North America.
Spacious Comfort at the Forefront on the Mustang
While the Mustang is small, it still maintains a spacious feel. The cozy but roomy cabin offers the utmost comfort and elegance. The stowable tables are available if you need them for refreshments or to use as a workspace. Additionally, experience the superior view and phenomenal natural light through the three large oval windows on either side of the passenger space. The cabin itself is 9'9″ long, with a height of 54 inches and a width of 55 inches.
Comfort is a top priority, which is evident with the multi-zone climate control. Each leather seat is specifically designed to allow you to relax as the crew takes care of your every need. The Mustang's advanced soundproofing minimizes exterior noise, so passengers can focus on relaxing during their time in the cabin. Plug-in your phone, laptop, or anything else you might need to power with an accessible 12-Volt DC outlet. Reading lights are also available for each seat. Furthermore, the cabin's design serves as an excellent place to conduct a small meeting or catch up on some reading. Available in-flight refreshments keep passengers hydrated, no matter the distance.
Finally, the Mustang has a sizeable baggage capacity of 63 cubic feet and a weight limit of 718 lbs. Several golf bags can easily fit, along with other effects you may need at your destination. There is also a space for carry-on luggage within the cabin.
Top-Notch Customer Service
Global Air Charter's top priority is providing an exceptional experience for travelers, from booking the flight to landing at their chosen destination. The GAC booking and office team strives to ensure the best fit for your travel needs on every flight. You won't need to plan contingencies if there are furloughs, long security lines, or other challenges typical airlines entail. From departure to arrival at your chosen destination, the team actively works to make time on the ground as enjoyable as time in the air.
The pilots are well-trained, well-rested, and ready to meet your needs with vast experience and continued education to surpass current standards. The cabin attendants complete regular training to ensure best practices are observed for safety and always anticipate your needs. You are the top priority at Global Air Charters.
The Private Flight Difference
Flights on a private aircraft have some district differences from First Class seats on a commercial jet. Commercial jets can only use large airports, whereas private jets have access to a multitude of smaller airports. This benefit gets you closer to your chosen destination. Flying with a charter company allows for greater amenities, such as a personally curated itinerary and the flexibility to help you make the most of your journey.
Increased luggage capacity is also a benefit to private travel, and passengers will never be charged for an extra bag.  The safety standards implemented on each private flight are unmatched by commercial airlines, and travelers are able to reduce possible exposure to illness with fewer people on the flight.
Streamline Private Jet Travel with the GAC LUX Card
Global Air Charters has created a program specifically for travelers who desire accessibility similar to owning an aircraft, with lower expenses and none of the typical challenges that may arise. Get exclusive, unmatched flexibility, convenience, and simplicity for all of your private jet needs. The Global Air Charters client management service team is accessible 24/7, 356 days a year to members. This dedicated service results in a personalized experience as the staff comes to know your preferences. Furthermore, priority access to the Global Air Charters fleet goes to LUX Card members. This benefit secures long-term savings, and curated programs typically only accessible to aircraft owners. Load the LUX Card and let our team do the rest. The GAC LUX Card ensures you receive the best pricing every time, whether traveling to domestic or international locations. Finally, you'll never be charged hidden fees or see fluctuating rates.